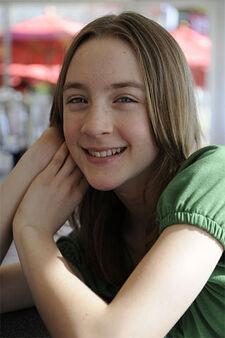 Saoirse Ronan is a Irish film actress, who was born on the 12th April 1994. She has appeared in many TV series and films since her debute in 2003.
Films and TV Series she has appeared in.Edit
The Clinic
(2003-2004) Role : Rhiannon Geraghty
Proof (2005) Role : Orla Boland
The Christmas Miracle of Jonathan Toomey (2007) Role : Celia Hardwick
Atonement (2007) Role : Briony Tallis
I Could Never be your women (2007) Role : lzzie
Death Defying Acts (2008) Role : Benji
City of Ember (2008) Role : Lina Mayfleet
The Lovely Bones (2009) Role : Susie Salmon
The Way Back (2010) Role : Irena
Hanna (2011) Role : Hanna
Violet and Daisy (2011) Role : Daisy
The True Confessions of Charlotte Doyle (2011) Role : Charlotte Doyle
The Host (2012) Role : Melanie Stryder
Ad blocker interference detected!
Wikia is a free-to-use site that makes money from advertising. We have a modified experience for viewers using ad blockers

Wikia is not accessible if you've made further modifications. Remove the custom ad blocker rule(s) and the page will load as expected.