Ray is a senior at Susie's school and also Susie's crush. He loves Susie very much and after she dies he thinks about her again and again. He soon considers that it may be time to let go of her. Susie comes back and goes into Ruth's body. Ray kisses her and says, "You are beautiful Susie Salmon."
Ray always remembered her and so did her family.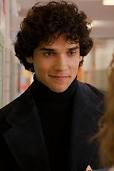 Ad blocker interference detected!
Wikia is a free-to-use site that makes money from advertising. We have a modified experience for viewers using ad blockers

Wikia is not accessible if you've made further modifications. Remove the custom ad blocker rule(s) and the page will load as expected.