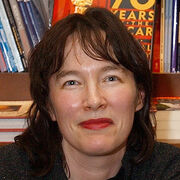 Alice Sebold is an American writer. She has published three books: Lucky (1999), The Lovely Bones (2002) , and The Almost Moon (2007). Sebold was born September 6, 1963 in Madison, Wisconsin. She enrolled in Syracuse in the late 70s or early 80s. At points her life was hard but that never discouraged her. She then became a greater author of three best-sellers.
Ad blocker interference detected!
Wikia is a free-to-use site that makes money from advertising. We have a modified experience for viewers using ad blockers

Wikia is not accessible if you've made further modifications. Remove the custom ad blocker rule(s) and the page will load as expected.